Last Friday, I spent and hour and a half clamping a landline phone to the side of my head, while also wearing a headset. I was recording an interview on the GitMinutes podcast about git-annex.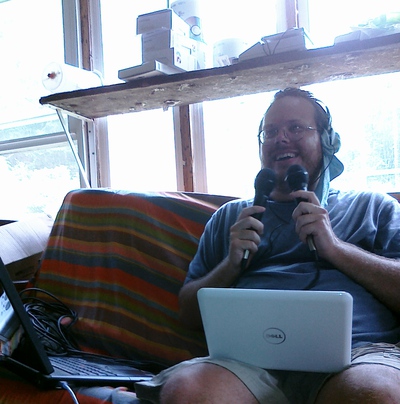 I've been listening to GitMinutes for a while, ever since I heard git-annex was mentioned on it. Actually, I think it's come up in 4 or 5 interviews on the podcast. Most notably with core git dev Peff King, who had some interesting things to say, for sure. I responded to that in my interview, and we covered quite a wide amount of stuff in reasonable depth in just over an hour. Thomas is quite a good host and great at drawing stuff out, and it's nice to not need to worry about going into too much technical depth. (Although I didn't get a chance to explain the automatic union merging used to maintain the git-annex branch.)
This is the first podcast I've been in, and I've always worried about audio quality if I was in one. That is, I'd want it to be really good, and probably end up annoying the host. ;) For this one, we settled on using my land line call, which went through some Skype thing to get the Europe, and mixing in a local recording I made with a not too great headset. I think the result is pretty good, considering.
You can listen to the whole thing here, if you dare! (1 hour 8 minutes) http://episodes.gitminutes.com/2013/07/gitminutes-16-joey-hess-on-git-annex.html
(Special bonus guest: The songbird that lives on my porch.)
---
git-annex fundraising campaign update: Initial goal reached in a mere seven hours. I will be developing git-annex fulltime for at least the next three months! Gone to stretch goal.
Also it made the top of Hacker News: thread