This is no longer operational.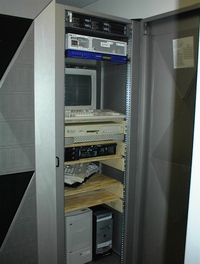 The debian-installer test lab is used by d-i developers to perform daily automated install tests using the debian-installer, and for other testing related to installer development. Currently the amd64, alpha, hppa, i386, ia64, mips, mipsel, s390, and sparc (sparc64) architectures are supported.
Access to the lab is open to Debian developers and other d-i people. Each test machine has remote console, remote reboot capability, installation via netboot (as well as emulated CD for i386 and amd64). The lab supports both manual installs as well as semi-automated installs (via the digress test framework). To get access to the lab, contact Joey Hess.
Hardware for the lab was donated and/or loaned by sponsors including HP, Genesi, and Joey Hess. Hosting provided by Brian McCrary. We welcome loans of hardware to add to the lab, particularly if it helps us cover more architectures such as m68k and arm. Please contact Joey Hess for details.
See also: instructions