I finished delivering all my Kickstarter rewards at the end of the year. This is an overview of how that went, both financially and in general.
my Kickstarter pie (not including taxes)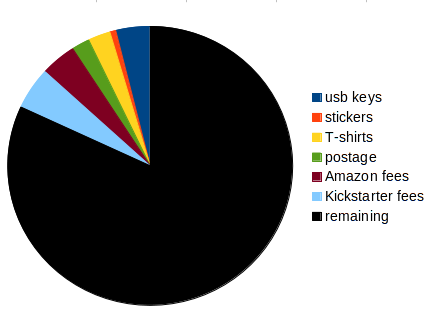 While the Kickstarter was under way, several friends warned me that I might end up spending a lot of the money for rewards, or even shipping, and come out a loser. It's happened to some people, but I avoided it. Most of the pie went to its intended purpose.
USB key arrives in Amsterdam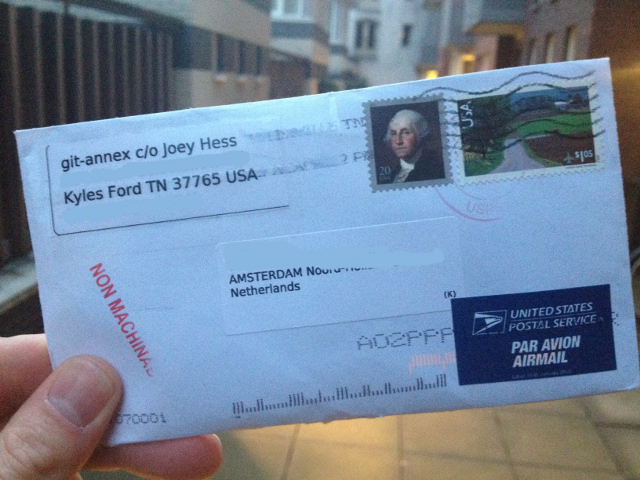 I kept shipping cost low by shipping everything by US postal service, including Air Mail for international shipping. This was particularly important for the stickers (which cost $1.05 to ship internationally). But I also shipped USB keys in regular mail envelopes, protected by bubble wrap, which worked very well and avoided the bother of shipping packages. The USPS will be annoyed at you for a rigid letter and add a non-machinable surcharge, but it's still a nice savings.
expenses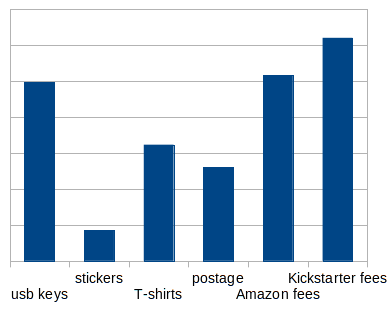 I spent more on rewards than on transaction fees, but the fees are still pretty large. Being dinged a second time by Amazon is the worst part. I have not been able to work out exactly what formula Kickstarter uses to determine its fee per pledge. It does not seem to be a simple percentage of the pledge. For example, they seem to have charged $0.25 per $10 pledge, but $25 for a $500 pledge. I wanted to solve this, but I'd have to match up all the pledges and fees manually to do it.
gross income by reward type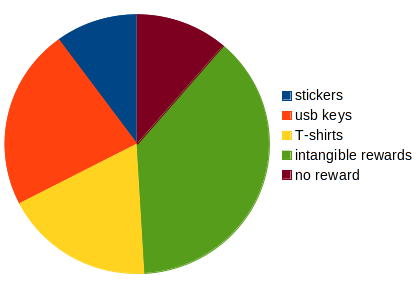 This chart is slightly innacurrate, because it puts any money pledged, beyond the amount needed to get a reward, into the "intangibles" category, despite the reward being probably responsible for that money being pledged.
(The intangibles also includes people who did not ask for a reward, and several categories of rewards not involving shipping matter around.)
But, the surprise for me is how large a peice the T-shirts are responsible for. It was my least favorite reward, and a low volume one, but I made out pretty well on it. However, I'd still try to avoid putting T-shirts on Kickstarter again. It's hard to do a good design (I didn't, really); they're expensive, and were by far the most annoying thing to ship. Also, I was not happy with the countries Cafe Press sourced their shirts from; I've been to Honduras and talked with people who have relatives in las machinas.
gross and net income by reward type (excluding shipping)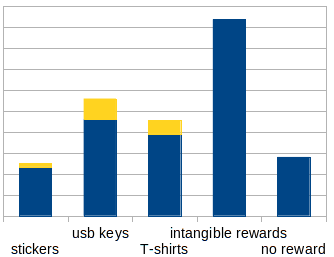 In contrast, the stickers had an amazing margin; they're so inexpensive to print that I printed up two kinds and included multiple with every other reward I mailed. I still have hundreds left over, too.. All the online print shops I tried have very annoying interfaces to upload artwork though. I had to do quite a bit of math to render TIFF files with appropriate DPI and margins.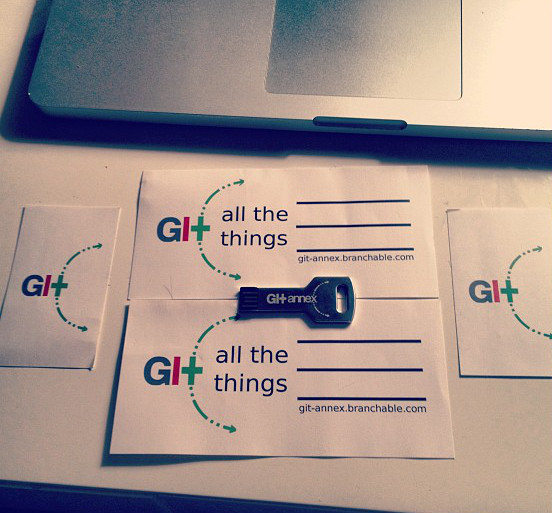 The USB keys were my favorite reward. I got them from USB Memory Direct, who gave me quite a nice deal. I was very happy that I was able to send them a SVG file of my artwork, so I didn't need to worry about lacking resolution for the laser engraving. And it came out looking great.
The best part was when their sales guy Mike actually did a minor alteration of the artwork, to better fit on the key, when I, being overloaded with Kickstarter stuff asked him too. A bit above and beyond.
There was an issue with their Chinese manufacturer's quality control of the 16 gb drives, but they were willing to send me replacement for all the ones I found problems with.
---
All told I spent probably 3 full days stuffing and shipping envelopes, and probably spent a week working on Kickstarter reward fullfillment. As work-related overhead goes, that's not bad. Maybe someone considering a Kickstarter will find this information useful somehow. Oh well, back to work. :)