After arriving yesterday, and doing the obligatory jetlagged wander around Circular Quay to the Opera House, I crashed for 15 hours sleep and seem reasonably well over the jetlag now. I'm staying near Central Station, which is great because it's very convenient to transport and there's lots of cheap ethnic food.
view down my street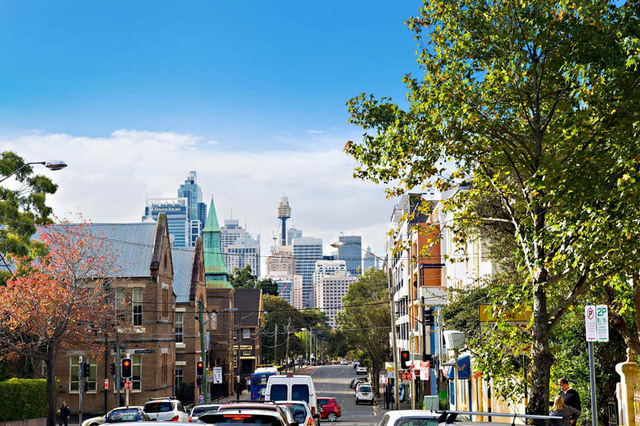 Today I took the ferry over to Manly Beach. I had to get in some in swimming of course, although today was cloudy and only in the 80's (F). That was ok, but the really nice bit was walking over to Shelly Beach and up along the sandstone cliffs near North Head.
Highlight was finding a small gotto high on the cliff, with some beautiful sandstone filigree overhead, that seemed carved by water (but probably really by wind), and contained a shady bench overlooking the Pacific. Great place to enjoy a lunch of crusty bread and salami if you're ever in the area.
Topped off a great day with a random trip to Neutral Bay (the D&Der in me liked the name, and why not, ferries are free) and a wander through the Royal Botanic Gardens.
I'm hoping to spend either Thursday or Friday at a co-working or hackerspace in Sydney, but I don't know where yet. Any locals have ideas?