Sinking Creek passes by my sister's place and then does something strange: It disappears under ground, passes beneath both a hill and the Clinch River, to emerge on the other side as a spring and finally flow into the river. I've always wanted to find where it does this, and today we set out to do that.

So for an hour or so we waded and scrambled down the soft-bottomed creek, through water that was often waist deep, with sometimes deeper suprises, past stands of cane, watching the banks rise up higher and higher, until we were in a 50+ foot deep gully.
There were many signs of flooding and erosion from when the underground outlet gets plugged. Lots of interesting trees suspended on their roots.
The sinkhole itself was not very impressive, and is less so here, but the landscape around it was breathtaking. These photos can't really show the scale of the place.
the sinkhole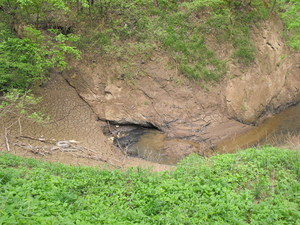 On the way back we got to play hide-n-seek from a farmer on his tractor, which added a nice adrenalin rush. He was scarier than this creek doll.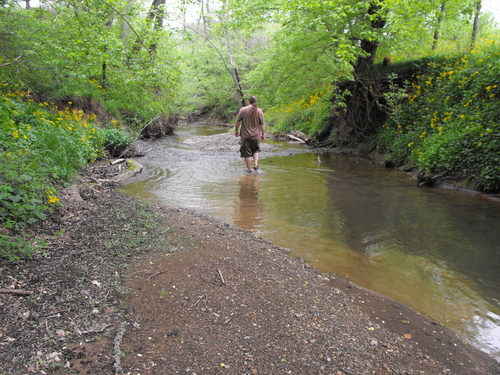 (Photos courtesy Anna Hess; her blog about it.)