My offgrid house has an industrial automation panel.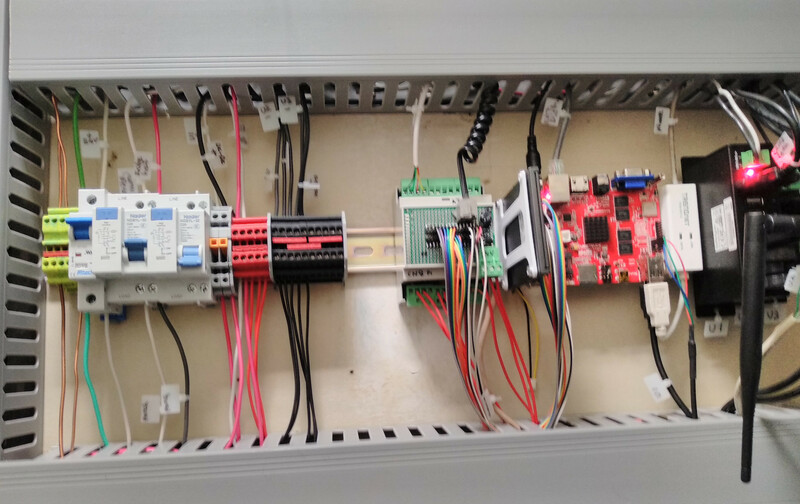 I started building this in February, before covid-19 was impacting us here, when lots of mail orders were no big problem, and getting an unusual 3D-printed DIN rail bracket for a SSD was just a couple clicks.
I finished a month later, deep into social isolation and quarentine, scrounging around the house for scrap wire, scavenging screws from unused stuff and cutting them to size, and hoping I would not end up in a "need just one more part that I can't get" situation.
It got rather elaborate, and working on it was often a welcome distraction from the news when I couldn't concentrate on my usual work. I'm posting this now because people sometimes tell me they like hearing about my offfgrid stuff, and perhaps you could use a distraction too.
The panel has my house's computer on it, as well as both AC and DC power distribution, breakers, and switching. Since the house is offgrid, the panel is designed to let every non-essential power drain be turned off, from my offgrid fridge to the 20 terabytes of offline storage to the inverter and satellite dish, the spring pump for my gravity flow water system, and even the power outlet by the kitchen sink.
Saving power is part of why I'm using old-school relays and stuff and not IOT devices, the other reason is of course: IOT devices are horrible dystopian e-waste. I'm taking the utopian Star Trek approach, where I can command "full power to the vacuum cleaner!"
At the core of the panel, next to the cubietruck arm board, is a custom IO daughterboard. Designed and built by hand to fit into a DIN mount case, it uses every GPIO pin on the cubietruck's main GPIO header. Making this board took 40+ hours, and was about half the project. It got pretty tight in there.
This was my first foray into DIN rail mount, and it really is industrial lego -- a whole universe of parts that all fit together and are immensely flexible. Often priced more than seems reasonable for a little bit of plastic and metal, until you look at the spec sheets and the ratings. (Total cost for my panel was $400.) It's odd that it's not more used outside its niche -- I came of age in the Bay Area, surrounded by rack mount equipment, but no DIN mount equipment. Hacking the hardware in a rack is unusual, but DIN invites hacking.
Admittedly, this is a second system kind of project, replacing some unsightly shelves full of gear and wires everywhere with something kind of overdone. But should be worth it in the long run as new gear gets clipped into place and it evolves for changing needs.
Also, wire gutters, where have you been all my life?
Finally, if you'd like to know what everything on the DIN rail is, from left to right: Ground block, 24v DC disconnect, fridge GFI, spare GFI, USB hub switch, computer switch, +24v block, -24v block, IO daughterboard, 1tb SSD, arm board, modem, 3 USB hubs, 5 relays, AC hot block, AC neutral block, DC-DC power converters, humidity sensor.
This waterfall is beside my yard. When it's running, I know my water tanks are full and the spring is not dry.
Also it's computer controlled, for times when I don't want to hear it. I'll also use the computer control later on to avoid running the pump excessively and wearing it out, and for some safety features like not running when the water is frozen.
This is a whole hillside of pipes, water tanks, pumps, solar panels, all controlled by a GPIO port. Easy enough; the pump controller has a float switch input and the GPIO drives a 4n35 optoisolator to open or close that circuit. Hard part will be burying all the cable to the pump. And then all the landscaping around the waterfall.
There's a bit of lag to turning it on and off. It can take over an hour for it to start flowing, and around half an hour to stop. The water level has to get high enough in the water tanks to overcome some airlocks and complicated hydrodynamic flow stuff. Then when it stops, all that excess water has to drain back down.
Anyway, enjoy my soothing afternoon project and/or massive rube goldberg machine, I certainly am.
Lemon is one of my things. I homegrow meyer lemons and mostly eat them whole. My mom makes me lemon meringue pie on my birthday. I thought I knew how much work that must be.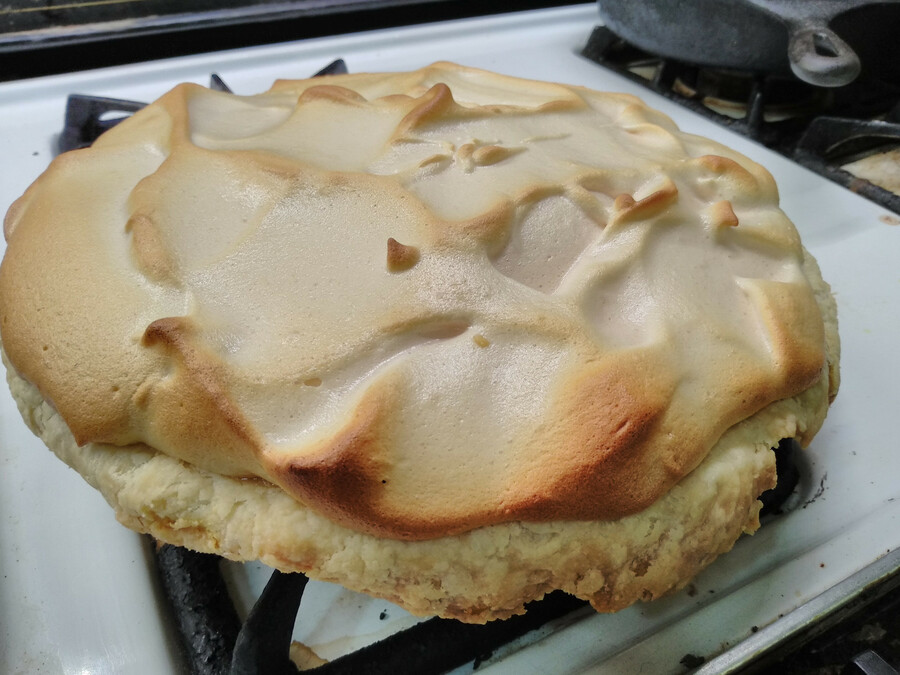 Well, that was harder than anticipated, and so worth it. Glad my mom was there on jitsi to give moral support while I hand whisked the egg whites and cursed.
I also got a homemade mask whose quarantimer expired just in time.
But all I really want want for my birthday, this April 11th 2020, is for the coronavirus to have peaked today. I mean, having a pandemic peak on your birthday is sour, but it's better than the alternative.
Please give me that gift. Stay home. Even when some are saying it's over, watch the graphs. Don't go visit even just one person, even on their birthday. I think you can do it.
Yes?