My offgrid, solar powered, zero-battery-use fridge has sucessfully made it through spring, summer, fall, and more than enough winter.
I've proven that it works. I've not gotten food poisoning, though I did lose half a gallon of milk on one super rainy week. I have piles of data, and a whole wiki documenting how I built it. I've developed 3 thousand lines of control software. It purrs along without any assistance.
Fridge0 consists of a standard chest freezer, an added thermal mass, an inverter, and computer control. It ties into the typical offfgrid system of a solar charge controller, battery bank, and photovoltaic panels.
This isn't going to solve global warming or anything, but it does seem much less expensive than traditional offgrid fridge systems, and it ties in with thinking on renewable power such as Low Tech magazine's Redefining Energy Security "To improve energy security, we need to make infrastructures less reliable."
I mostly wanted to share the wiki, in case someone wants to build something like this. And to post some data. Here's the summer and fall temperature data.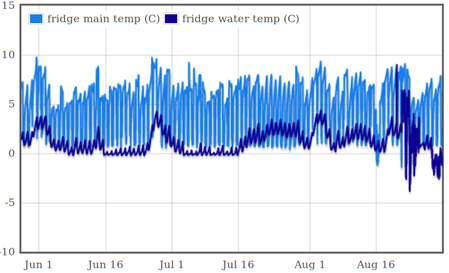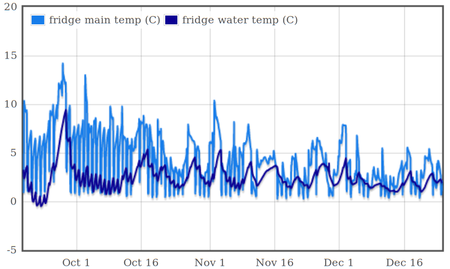 (More on temperature ranges here.)
I want to be upfront that this is not guaranteed to work in every situation. Here's that time that the milk spoiled. A tropical storm was involved. Most of the time milk stays good 2 to 3 weeks in my fridge.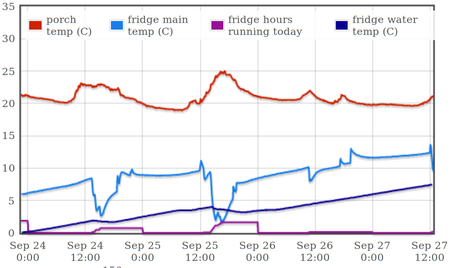 Some things I might get around to doing eventually:
Using a supercapacitor to provide power while shutting down on loss of solar power, instead of the current few minutes of use of batteries.
Also running a freezer, dividing up solar power between them.
A self-contained build with its own solar panels and electronics, instead of the current build that uses my house's server and solar panels.
A full BOM or kit, just add solar panels and chest freezer to quickly build your own.
I probably won't be devoting much time to this in the upcoming year, but if anyone wants to build one I'm happy to help you.